QuickBooks Integration with Act!
Qsales for Act!
Qsales makes Act! the perfect CRM for QuickBooks users
See the whole picture with contact & customer data in one place
Keystroke's Qsales seamlessly integrates your Act! and Quickbooks applications together to give your whole team the account visibility they need to be more productive and informed. Having the data to see contacts as customers allows users to understand the value of an account in an instant, including their account status, product preferences, payment patterns, and even the volume of business from year to year.
Qsales allows users to quickly respond to urgent customer needs by recording or reviewing transactions from inside of Act!. And the Overdue Toolbar Utility warns users of past due accounts, helping to avoid further credit risks with that client.
Qsales is available in two versions - Classic & API. Classic links the Act! & QuickBooks programs together, allowing users to quickly share data between the two programs and across multiple data files. Qsales API, on the other hand, links the "data files" together through our proprietary API, and therefore only needs one QuickBooks license for all Act! users, without needing QuickBooks locally installed for most users.
More data visibility for more users is why we say Qsales makes Act! the perfect CRM for QuickBooks.

Fast Facts on the Features of the New Qsales for Act!
Seamless CRM & Accounting Integration

Our Easy Setup Wizard gets you started fast
A step-by-step wizard helps guide you through the setup process based on whether you're a new or existing Act! user.

Easily create a new Act! database from QuickBooks

Link Act! contacts to QuickBooks Customers & Vendors

View QB Transactions from within Act!

Lookup Customers in Act! by purchase details

Create or Edit QB Customers from inside Act!

Create & Edit QB transactions from within Act!

Work from anywhere with Qsales & an RDB

Sync vital accounting data to Handheld Contact

Qsales Reporting
Gain important sales & collection insights with the Qsales reporting tool featuring 13 built-in reports, including sales by customer, product, or rep, as well as a variety of overdue account reports.

Qsync automated syncing keeps Act! up to date

Automatically create Act! Contacts from QB customers

Create professional Quotes from Opportunities

Convert Act! Opportunities to QB Transactions

Alert Act! users of credit risk accounts

View 5 years of key QB sales metrics in Act!

Reduce your reliance on QuickBooks

Dual Deployment API suits teams of all sizes
QSales Features

API

CLASSIC

View 5-year transaction summary inside of Act!

Create new Act! database from QB

Link contacts to QB Customers & vendors

Update customer details from Act!

Lookup customers by products purchased

Create & Edit QB transactions inside Act!

Create & Edit QB customers inside Act!

Requires QB to be installed locally

Create professional quotes inside Act!

Qsales functions with a remote DB

With Qsales Classic v14 or higher, remote users can view all transactions details, but not create or edit customer or transaction details when away from the office QuickBooks file. A Qsales API deployment can be configured to support full access for remote users.

Sync vital accounting data to HHC

Qsync updates accounting data in Act! nightly

Saves business money on QB licensing

Works with older & newer versions of Act! & QB

Qsales Classic v12.x supports legacy versions of QuickBooks and Act!, but Classic v14 requires supported versions of each.

Qsales Classic v14 supports reporting, Qsales Classic v12.x does not.

Be alerted of overdue accounts on the Qsales Toolbar

Works with 64-Bit versions of Act! & QB

Classic requires matching bitness between the programs, so 64-bit versions of Act! must be matched with 64-bit versions of QuickBooks, and the same for 32-bit versions. Qsales API is the only version that can cross bitnesses.

Automatically create Act! contacts from new QB customers

Convert opportunities to QB Transactions

Refresh data from QB into Act! on demand

Email or Print transactions inside of Act!

Qsales Classic v14 supports this feature, but v12.x does not.

Transaction Search inside of Act!

Filterable transaction lists at contact & global level

Includes 14-day free trial

Due to the setup complexity of the API version, no trial is available. We recommend doing a trial in Classic, and converting to an API deployment if needed. The Qsales data works with either version (exclusive of v12.x)
= Included
= Not Included
= Partially Included
How to create a Database from your data in Quickbooks
How to Manage Transactions From Within Act!
How to create & edit QuickBooks customers inside of Act!
How to install the Qsales API
Setting up the nightly Qsync
How to setup a new database with Qsales
How to setup Qsales with an existing database
How to create & edit QB customers inside of Act!
Using the Qsales Quoting feature inside of Act!
How to manage transactions from within Act!
Keystroke Qsales for Act! Gallery
Frequently Asked Questions
How does Qsales API save me money on QuickBooks?
Prior to Qsales API, each Act! user needed a QuickBooks license to integrate Qsales. This could easily add $400-1000 in license cost per user. Qsales API connects all users to the QuickBooks data through one user account, meaning a business can provide everyone access to vital accounting details for the cost of one QuickBooks license.
Qsales Classic still requires the one-to-one setup, but is much easier to configure than an API deployment.
If all users accesses QuickBooks through one user account, how do I control user security?
Is the connection to QuickBooks live or offline?
How can a remote user create a transaction in their RDB and have it appear in the office QuickBooks instantly? Is that secure, and do I need a VPN?
Do local and remote users have all the same Qsales features & functions?
I'm a current Qsales subscriber. How will my costs change as Qsales switches from M&S to full subscription?
Is Qsales v13 compatible with Act! v24 - the 64-bit version?
Does Qsales work with the online version of QuickBooks, or just the Desktop version?
If I need help installing and configuring Qsales, will you guys do this for me?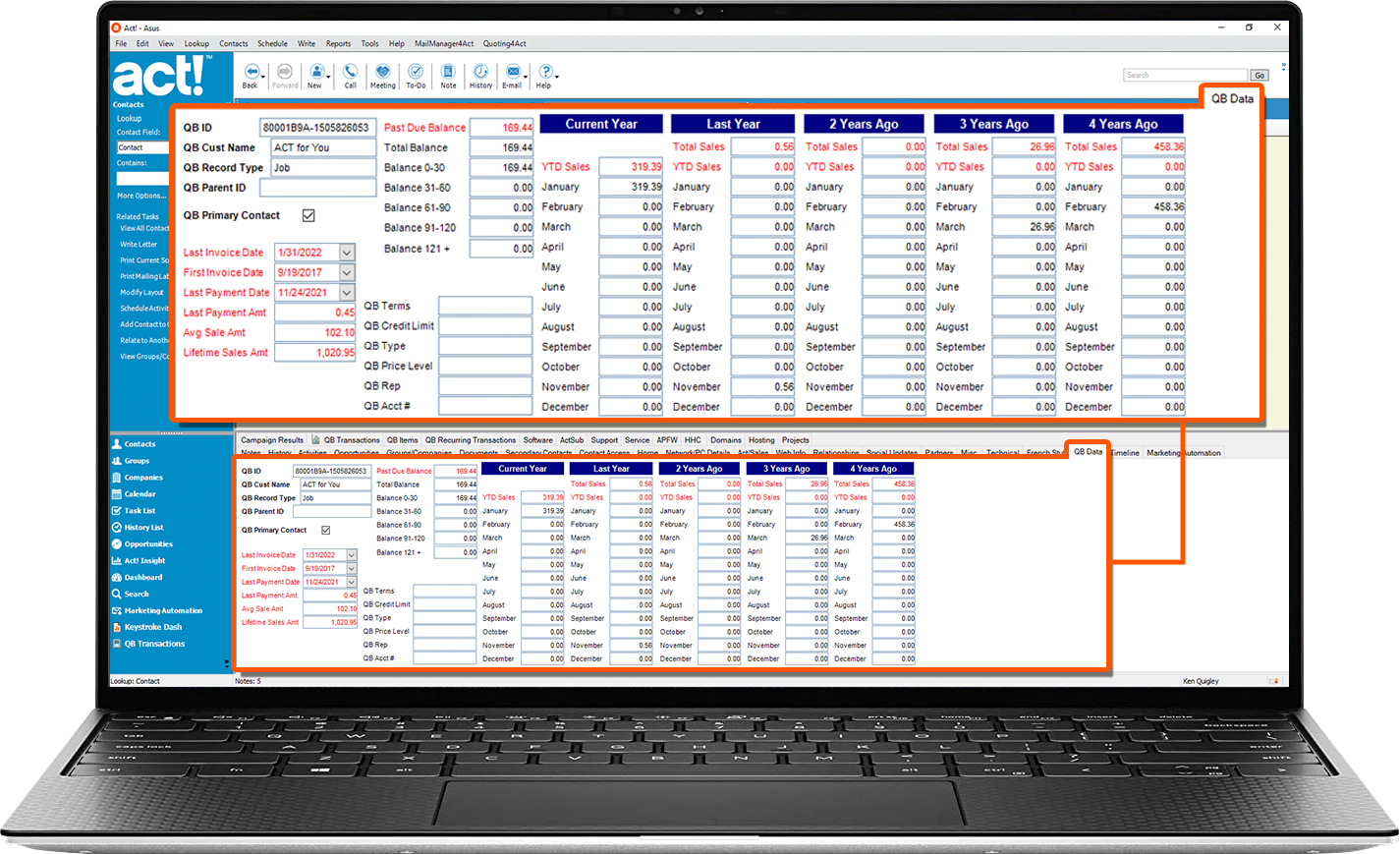 1
Five years of sales, summarized by month and year
2
Critical account balance fields
5
Fields for linking contacts to customers/vendors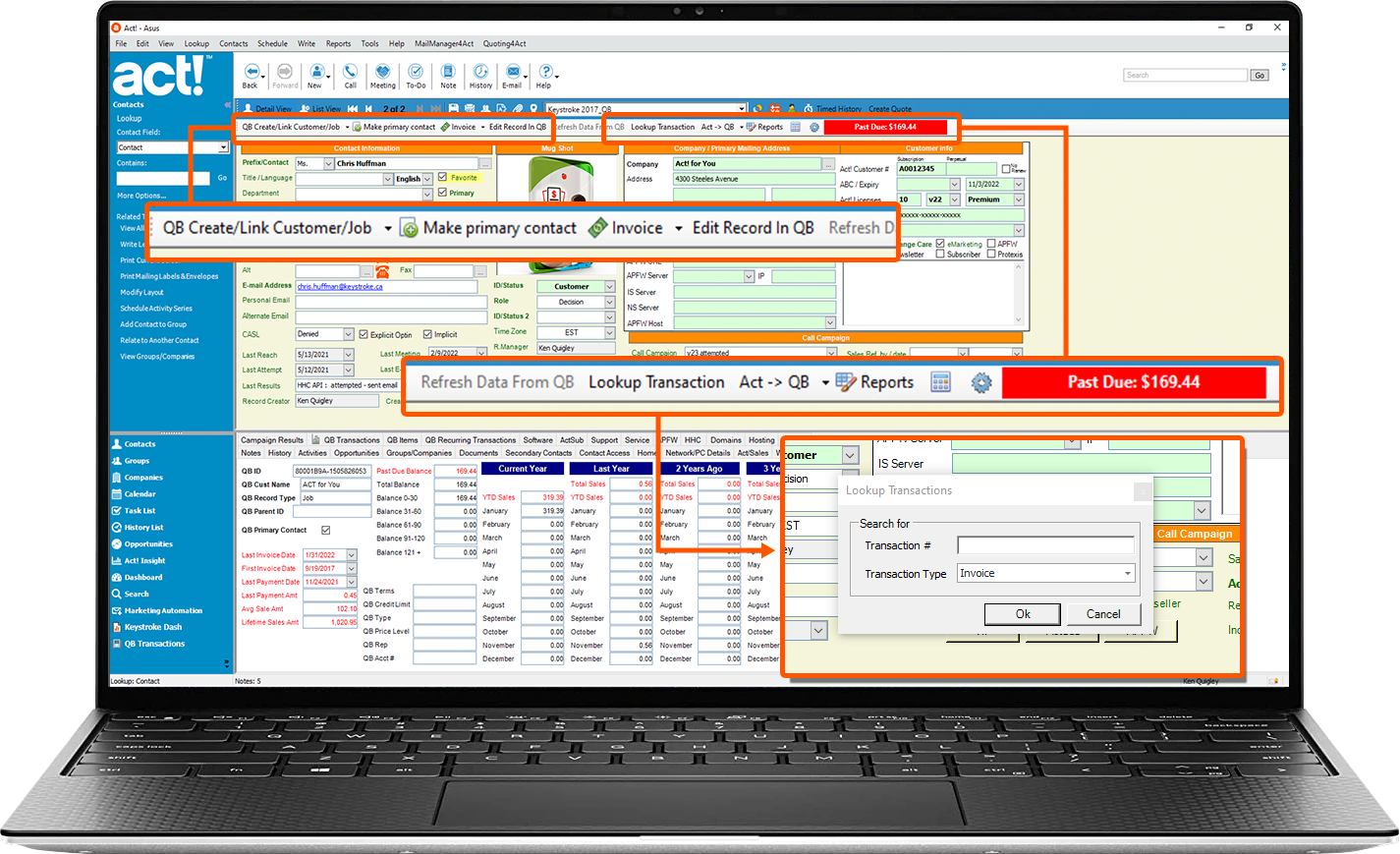 1
Toolbar features like creating and linking contacts to customers
5
Allows you to search for a transaction number, and the contact it's linked to
6
Push field data from Act! to QB or QB to Act! based on the field mapping
7
Click to launch Report Wizard (see Report View tab for more details)
9
Cog allows you to select which toolbar options are displayed. Also, brushing the mouse over the cog displays the Qsales version number
10
Overdue alert button. Get immediate feedback on whether this account has overdue bills. When the button is red it's over due, and when it's green, the account is within terms.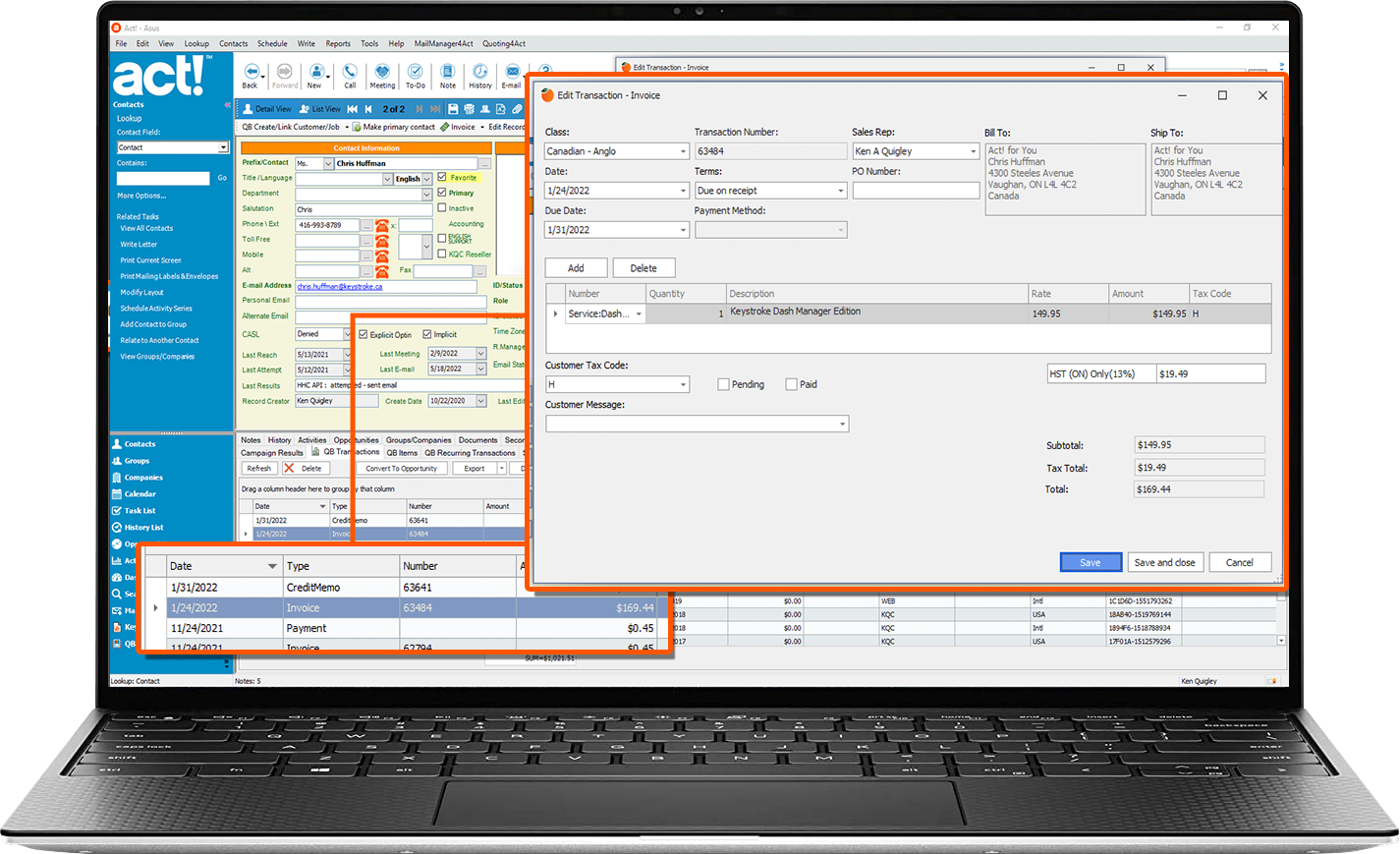 1
Selected transaction under the QB Transaction Tab. Double Click to display the transaction in edit mode.
2
Displays window of transaction. Changes made here are saved instantly to QuickBooks
3
Add or delete items from a transaction, or change the quantity below within the line item
4
Update an of the fields displayed like Class, Date & Due Date, Terms, Sales Rep, and Sales tax
5
Change a transaction to "Pending" to make it non-posting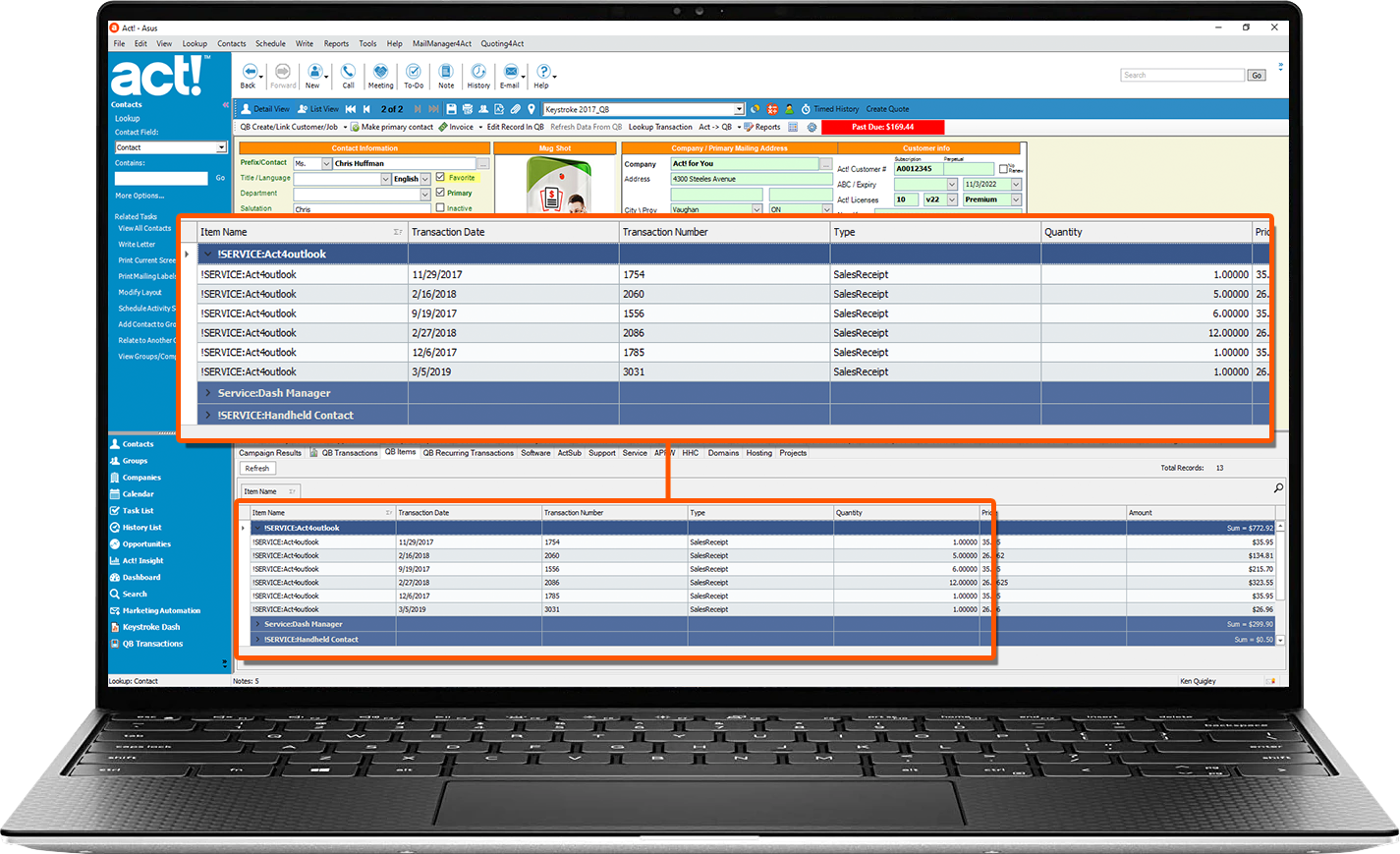 1
The product column, which is expandable
5
Quantity of product purchased with that transaction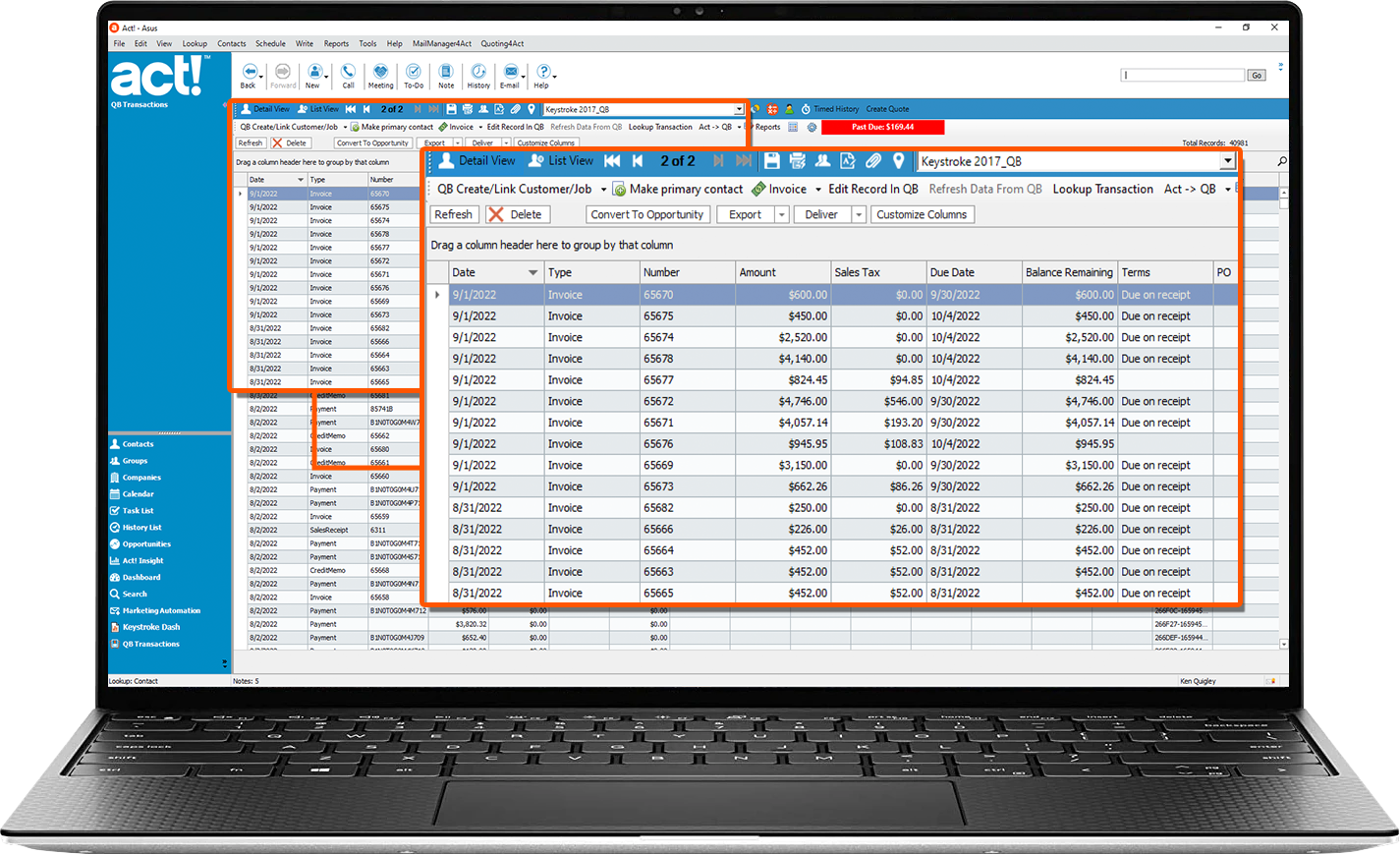 1
All column headers are filterable so you can easily create a customized view of only the transactions you want to see.
2
Convert to Opportunity is great for customers that re-order a lot. You can take a transaction, convert it to an Opp, which can then be converted to a quote.
3
Export your list to Excel or CSV to share with others on your team
4
The Deliver button allows you to print or email the transaction. A separate form designer is also available.
5
Customize Columns allows you to choose which columns you see
6
You can also right-click on any transaction and select Go to Contact, Duplicate Transaction, or Convert to Recurring Transaction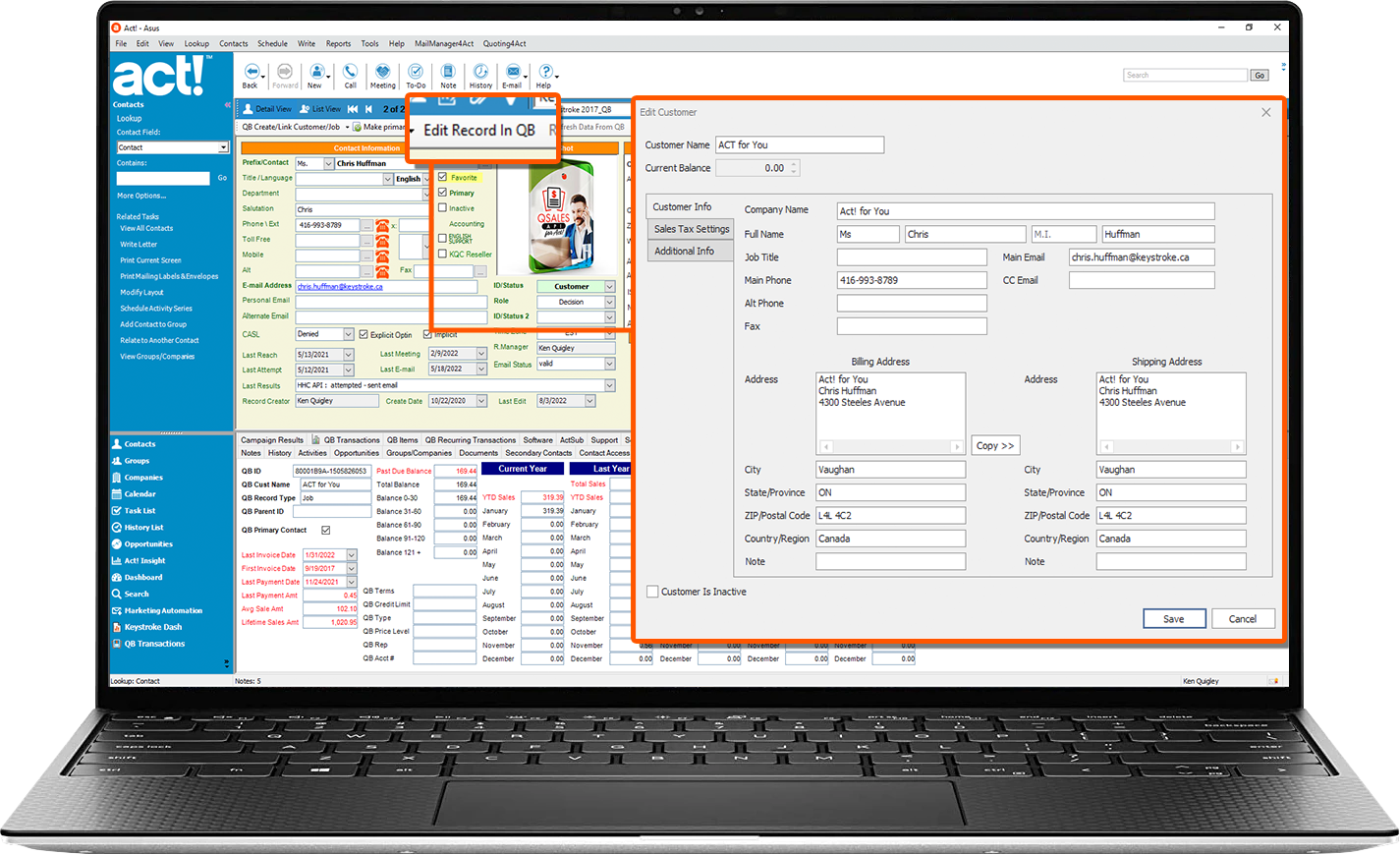 1
Toolbar button to edit the record in QB
2
All fields that are active in the edit view will be updated instantly in QB when saved here.
3
Complete updates on the left side, and copy to the right
4
Make a customer inactive from Act!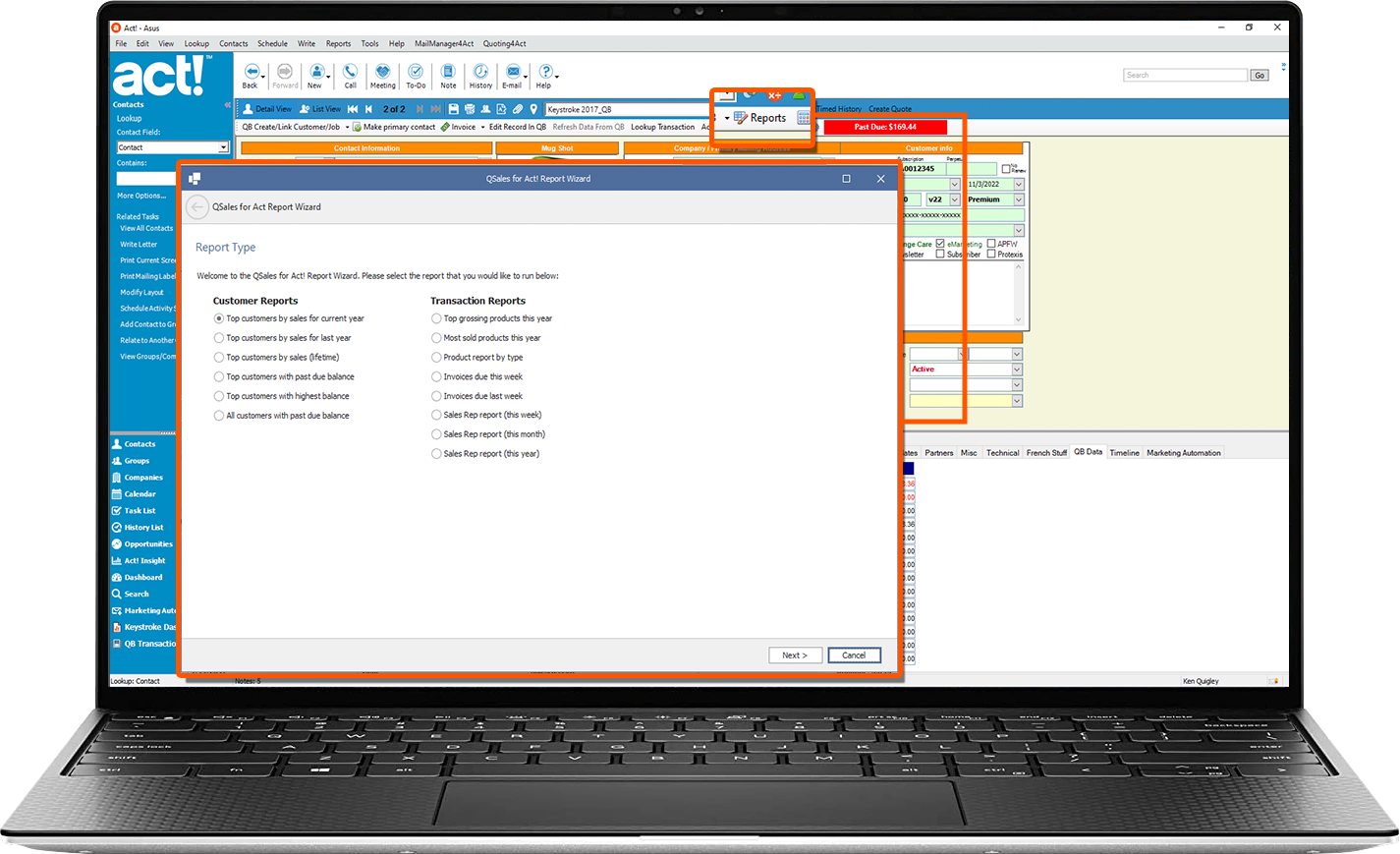 1
This button on the toolbar will display the last transaction you created, making it easier to create similar type transactions for different customers
2
Invoice, Sales Receipt, Credit Memo, and Receive Payment functions are all posting transactions and once saved, appear instantly in Quickbooks.
3
Estimates can also be emailed to the customer from inside the transaction for faster quoting.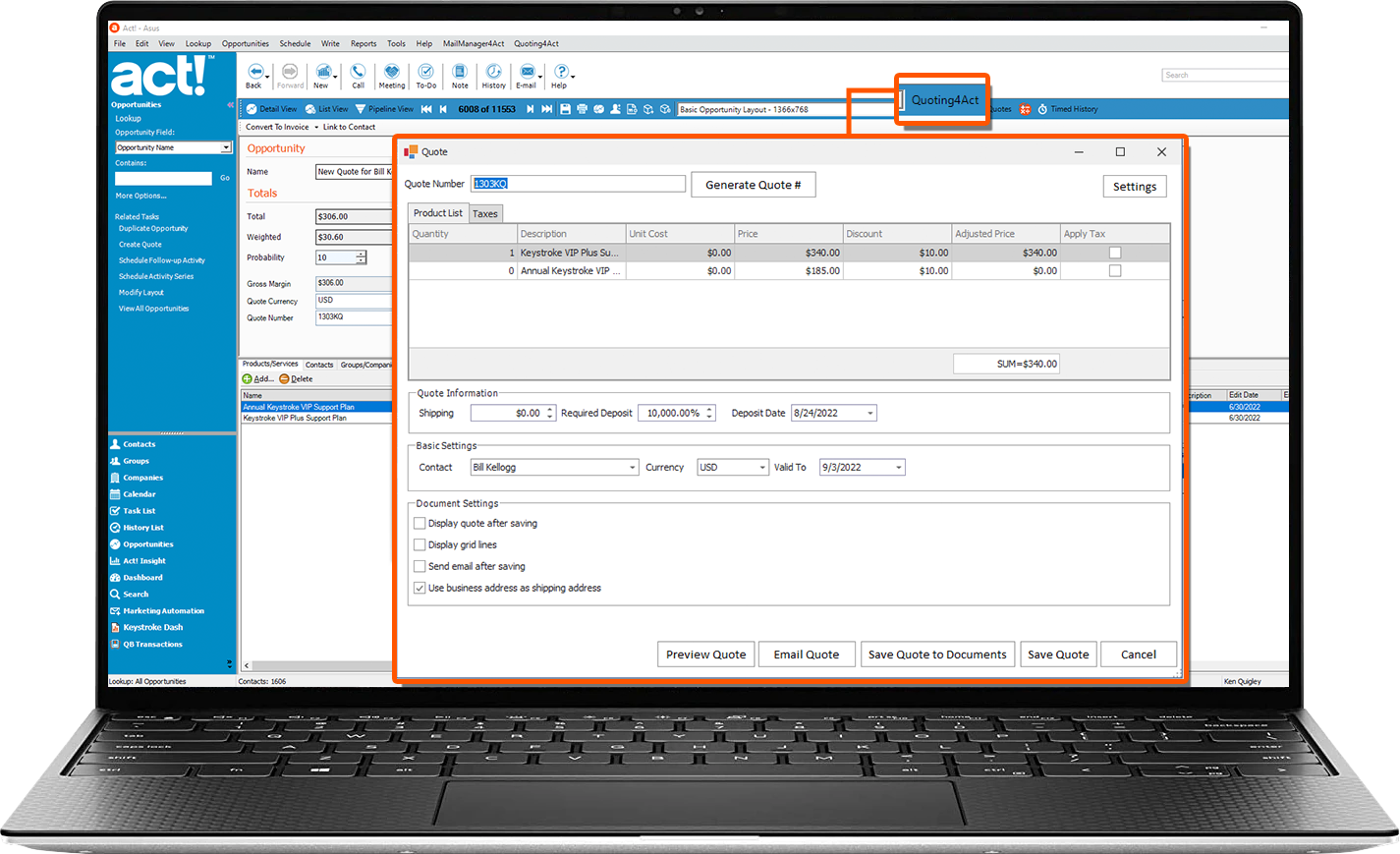 1
Quoting4act: Convert any Opportunity to a professional-looking quote
2
Convert an Opportunity to a QuickBooks Transaction
3
Link an Opp to a Contact & Customer
4
Handy quote functions like preview, email, save to Documents, and Save
Purchase Notes & System Requirements
Prices, Currencies, and Terms
$120 per activation, per year (all pricing listed in USD)
Software System Requirments
Act! v19.2 Pro & Premium and newer (including v24)
QuickBooks 2018 Basic, Pro, Premier and Enterprise and HIGHER (US, Canadian, and UK version)
Qsales API must be setup on a Windows Professional or Server-based operating system (must support Internet Information System).
Qsales for Act! Setup Instructions: