$165*
per user/year (*standard)
Want to learn more about QuoteWerks & QuoteValet?
Aspire Technologies Press Release
QUOTEWERKS
BEST NEW PARTNER - 2011
awarded to:
Keystroke Quality Computing Inc.
FUN FACT
QuoteWerks and QuoteValet are the ONLY Act! add-ons we resell on Keystroke.ca that we didn't produce ourselves.


Act! is a powerful CRM with a weak integrated quoting tool, and frankly seldom used. QuoteWerks solves this problem, by providing a robust, easy-to-use quoting solution with modern interactive delivery options.
QuoteWerks is a specialized application used in every industry for creating sales quotes and proposals. Rather than using Microsoft® Word® or Excel® to create your quotes and proposals, you can benefit from a tool that is purpose-built for the task of creating quotes and proposals.
QuoteWerks integrates with your Act! customer data, eliminating the need to re-type customer details into your quote, or recreate Opportunity details in Act!. Finally, quoting & pipeline management are completed in one easy step with QuoteWerks. At Keystroke, we use QuoteWerks & QuoteValet internally, and we're award winning resellers.
Why do you need QuoteWerks?
QuoteWerks will make you more efficient, more consistent, more professional, and more competitive. The content of your quote and how you present your quote is important. The quote represents not only what you are selling, but who is doing the selling. As such, your quote is an extension of your company brand and image.
First impressions are important; they can make or break deals. The quicker you can get that quote into your customers hands the better chance you have of winning their business. Bottom line; If you want to save time and money when quoting, selling, ordering, and purchasing products and services you need QuoteWerks®.
QuoteWerks & QuoteValet Videos
Click the buttons below to launch the described videos
Editions & Rates
The following QuoteWerks service tiers are displayed in annual subscription pricing. Monthly and one-time rates are also available (excluding QuoteValet). The pricing & product details are listed for information purposes only, and do not reflect any current promotional pricing that may be available.
QuoteWerks
Standard Edition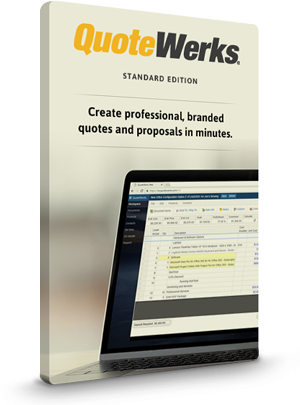 A simple quoting solution with many of the features of the higher tiers, but no accounting integration
QuoteWerks
Standard Edition
The Standard Edition of QuoteWerks is a great sales tool that is used by customers in almost every industry, and is the base QuoteWerks package that includes the built-in Contact Database and a link to Microsoft Outlook®. Links to other Contact Management solutions can be found in the Professsional and Corporate Editions of QuoteWerks.
QuoteWerks
Professional Edition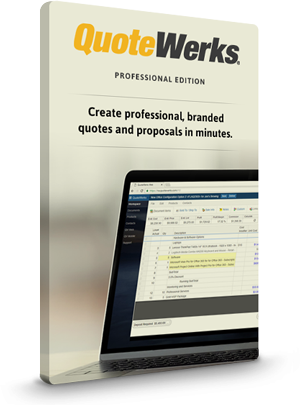 Professional quoting with accounting integration, syncing, and MS Access back-end.
QuoteWerks
Professional Edition
In addition to the features of Standard, the Professional Edition adds links to CRM's such as ACT!™, GoldMine®, Maximizer Desktop, salesforce.com®, SugarCRM, and Zoho CRM, and adds the ability to link to a variety of external product data sources. Additionally, Pro includes the accounting links to QuickBooks® (Desktop), Sage 50 US / Peachtree®, and the Open Export Module. This Edition also includes quote synchronization functionality.
QuoteWerks
Corporate Edition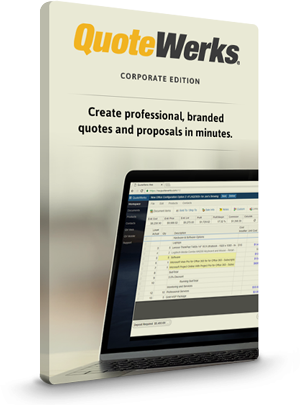 Our top quoting solution. Ideal for bigger teams with higher syncing requirements. MS SQL Express back-end (SQL Server sold separately).
QuoteWerks
Corporate Edition
The Corporate Edition includes all the features of the Standard and Pro Editions and adds support for hosting the data on a MS® SQL backend database, and the ability to integrate with many more CRM's.  The Corporate Edition also includes additional quote synchronization functionality, and has the "Rollout" functionality that rolls out product and other non-quote related information to remote installations such as laptops.

QuoteValet Subscription
(Add-on)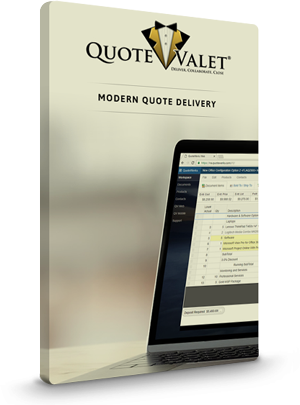 Bundled with QuoteWerks as an optional add-on, QuoteValet provides modern and interactive online quote delivery and acceptance service.
QuoteValet Subscription
(Add-on)
QuoteValet is a more robust way to deliver quotes to your customers and prospects. QuoteValet Mobile and QuoteValet Insight are included free with your QuoteValet Subscription. This subscription can be used with all editions of QuoteWerks.
Prices are in USD.
License count is based on daily maximum number of unique users.
This is a annual subscription.
The QuoteWerks license count is based on concurrent usage so while you may have 5 users using it, you may only need to purchase 2 licenses. The QuoteValet license count (which must be bundled with a valid, current license of QuoteWerks)  is based on daily maximum number of unique users.
QuoteWerks Edition Subscriptions include the UMP Subscription at no additional charge ensuring you are always eligible for the current release.

In addition to monthly and annual subscriptions, one-time, up-front purchasing options for edition and realtime licenses are available which include volume pricing discounts. Invest up-front and pay minor maintenance fees annually. Please contact Keystroke Sales at sales@kqc.ca or 1-833-ACT-BOLD to answer any questions or to obtain a personalized quote.
Feature Comparison by Edition
The following QuoteWerks feature comparison by tier are listed for information purposes only, and may not reflect all feature differences between the tiers, or any changes to features Aspire Technology may have made with recent updates.
| | | | | | | |
| --- | --- | --- | --- | --- | --- | --- |
| Subscription pricing (per user) | | | | | | |
| Annual Subscription pricing | | $165.00 | | $219.95 | | $318.96 |
| Monthly Subscription pricing | | $15.00 | | $20.00 | | $29.00 |
| Back end Database type | | | | | | |
| Microsoft SQL | | | | | | |
| Microsoft Access | | | | | | |
| Supported CRM's | | | | | | |
| Act! | | | | | | |
| Goldmine, Maximizer, Outlook, and MS CRM | | | | | | |
| Act! for Web | | | | | | |
| Sugar, SFDC, SLFX, ConnectWise, and AutoTask | | | | | | |
| QW Built-in Contact Database | | | | | | |
| Supported Accounting Links | | | | | | |
| Quickbooks | | | | | | |
| Peachtree/Sage 50 (US) | | | | | | |
| Synchronization Includes | | | | | | |
| Quotes, Orders, and Invoices | | | | | | |
| Products | | | | | | |
| Bundles/Configurations | | | | | | |
| Required/Optional Items | | | | | | |
| User Logins | | | | | | |
| Miscellaneous | | | | | | |
| Open Export Model | | | | | | |
| Link to External Product Services | | | | | | |
| 600 Line Items per Documents | | | | | | |
| 1500 Line Items per Documents | | | | | | |
= Included
= Not Included
= Partial
The Six Steps to selling with
QuoteWerks integrates and leverages the software you already own and know how to use. It centralizes your data and eliminates costly mistakes all of which ultimately saves you time and money.
Step #1 - Search
Say goodbye to manual contact entry
Search your customer information from your existing CRM or PSA, and pull all their contact details into the quote. You can even have different contacts for the Bill To and Ship To in cases where different employees are involved, or you're working with resellers.
Step #2 - Build the quote
Quickly create quotes and streamline your sales cycle:
Search the Data: Link to products and services, import new ones, copy and paste items from outside sources.
Dive into Details: Products can include pictures, spreadsheets, URL information, descriptions and more
Reduce Training Costs: Configurator presents the sales rep with a list of products to choose from step-by-step.
Create Kits & Bundles: Group items that are commonly sold together. Items can be grouped on the fly.
Auto-populate Essentials: Required items, such as labor, are automatically added to quotes. Hide line-items as desired
Set Pricing: For each product, see what you've previously charged and adjust quote margins overall or by line item
Step #3 - Review
Eliminate mistakes with peer reviews
Before a quote is sent to a customer, QuoteWerks facilitates peer reviews and quote approvals from sales managers and executives ensuring there are no mistakes and the quote is within margin. This helps with sales rep training, as well.
Step #4 - Generate
Ensure professional output
Select your branded template and determine how you'd like to present your quote to the customer. Include additional documentation such as spec sheets, literature, cover pages, contracts, disclaimers, payment terms, and more.
Your quotation is a reflection of your company, and with QuoteWerks, you'll look good, and close more
Step #5 - Send (QuoteValet add-on)
Deliver modern interactive quotes
Electronically deliver interactive quotes via optional QuoteValet cloud service. Customers can select options, electronically sign and accept quotes and even make payment by credit card.
Know when quotes are viewed and accepted.
Stop the back and forth - close the sale!
Your Sales Rep gets a free assistant!
Be alerted when expired quotes are viewed
Step #6 - Order/Export
Submit orders and export accepted quotes to accounting
After a customer accepts, QuoteWerks converts the quote into an order, places the order with distributors, creates a PO and sends the order to your accounting software (requires Pro version or higher).
Exporting to your accounting software allows the creation of new customers and/or products on-the-fly, or matches them with existing. This steps is a huge time-saver once the deal is done, and reduces the likelihood of errors in order processing.
Still unconvinced QuoteWerks can transform
how you sell your products & services?
CALL US FOR A QUOTE!
We use QuoteWerks & QuoteValet internally, and we love it! We've customized it to fit our unique business needs, and we'd be happy to show you how it's helped our business sell more with less effort & training. To illustrate how passionate we are about QuoteWerks & QuoteValet, they are the ONLY Act! add-ons that we sell on Keystroke.ca that we didn't produce ourselves.
Dial 1-833-ACT-BOLD, or click the button below to submit a QuoteWerks quotation request, and watch the QuoteWerks process in action.