About Keystroke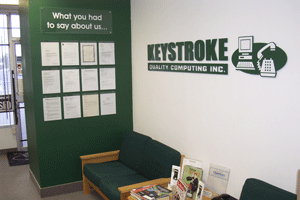 Humble Beginnings: In 1994, Keystroke Quality Computing Inc started off humbly as a couple of technicians scrambling around selling, networking, and fixing computers. The work was simple and the demand was high as the PC industry was in it's relative infancy.
As our staff grew, we began to specialize in home and business network solutions, that allowed people to more efficiently and productively work together, whether it was in a local or remote setup. By today's standards, this type of work may not seem noteworthy, but it proved useful in setting the direction of our company for the next 10-15 years.
Business Focus: With a mind for group productivity solutions, Keystroke began to focus on database and web solutions that could really bring teams together for better productivity, efficiency, accountability, and organization. The solution we chose for that was simple, ACT!. The #1 selling small business CRM in the world for over 25 years. ACT! software consulting allowed us to harness our LAN & WAN technical experience to provide people access to their mission critical customer data from anywhere in the world. What's more, our decade's worth of experience in web hosting proved to be an effective springboard to our database hosting. This service allowed customers to take advantage of ACT! without the need to invest heavily in the network infrastructure to support it.
Our business focus was clear, and the results were amazing, as we've grown to become the #1 Act! Reseller in the world, with almost 30 Act! Consultants employed or udner our management.
Trusted IT Partner: So if you are wondering how to harness the power of technology to improve your small to medium size business, give us a call. Our team of Microsoft Certified System Engineers, ACT! Certified Consultants, Quickbooks Certified Pro Advisors, QuoteWerks Solution Providers, will bring the knowledge, experience, technical wherewithal, and resources necessary to complete the job on time, and on budget.